Plug Into The Power of Thirds for Generating Better Leads
Francois Gau
When I worked for a large publicly traded company, we had lots of ways we could spend our marketing budget, but no real sense of which activities were responsible for delivering specific sales.
During a recent meeting, a prospective client asked me a simple question:
"Do you have any data on which activities drive lead generation?"
Without knowing it, he wanted to benchmark his company's marketing activities.
Since I founded GrowthHive more than four years ago with the vision to "Make Your Marketing Count," we've been building our analytics engine to correlate a deal (sales transaction) to a source by using sophisticated algorithms, mostly time-phased. For some of our clients, deals can take months to materialize, we needed a good way to account for long sales cycles.
Do you really know where your leads come from? Here's a benchmark.
Where Do Leads Come From?
When it comes to where good leads come from, we looked at 4+ years of data. Even though we have dozens of clients, each in a different market sector, we have seen these trends emerging, post COVID, across all sectors: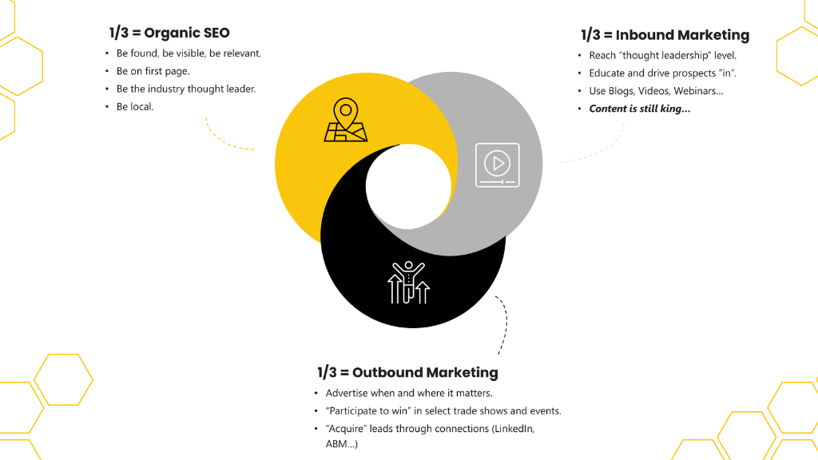 Organic SEO
One-third of deals come from organic search engine optimization (SEO). That is, people search and find our clients on Google or through other search engines.
Inbound Activities
One-third of deals come from inbound activities. For example, a prospect saw a blog post, a social post, an eNewsletter, a targeted email, or something else that educated and intrigued them about possible solutions related to fulfilling an unmet need.
"Outbound" Activities
The last third comes from what I term "outbound" activities. That category includes Trade Shows, Webinars, Lead Acquisition Services, and Advertising (Social, Print, Digital, Search Engine Marketing (SEM), and Re-targeting). In essence, we cast a fishing net somewhere, "sell" to whoever is "swimming in those waters" and "catch" some of them.
What Is The Best Method of Lead Generation?
If you believe that The Power of Thirds is directionally accurate for you and your team, your next question should be, "How much do we spend on each third?"
This graphic provides a general understanding of the types of return on different types of lead generation.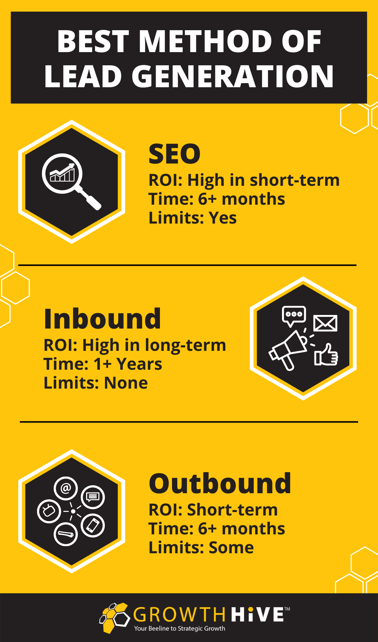 Some rules of thumb as you attempt to answer the question are:
SEO has the highest short-term ROI but is limited by being fully dependent on your website

Inbound has the highest long-term ROI and no limits whatsoever. Once you reach "thought leader" status, you're on the first page of Google rankings. It takes time to get there, and the effort is totally worth it.

Outbound is the easiest and fastest path to lead generation. It is also the most expensive and needs to be sustained over time until SEO and Inbound can shoulder the load.
Contact the Experts at GrowthHive
Without data, it's almost impossible to fit the Power of Thirds model within a given budget because the timeframe for activities that generate deals, and the resulting cash flow, add complexity to the mix.
The good news is that we've invested a lot in predictive models over the past two years. In fact, we're in beta testing with some clients and have found a strong correlation between activities and deals (90% so far).

If you'd like to test drive this tool for your company, let me know. We'll jump on a short discovery call and crunch the numbers for you within a week. No strings attached.
No meeting selected
Select an existing meeting from the sidebar, or create a new one by navigating to the Meetings tool
Contact Us
Related Posts
In this article:
Online shopping is trending upward - quickly
Why eCommerce is the future of shopping (B2B and...
When we talk about #MarketingMustGoOn, we know that it can sound intimidating. What do you say? How do you strike...
Amanda Uhme
Apr 28, 2020 10:54:34 AM