Give with the Intent to Get
Francois Gau
As I reflect on the meaning of Thanksgiving Day, a holiday that is right around the corner for those of us in the U.S., I thought about my "Sales 101" on-the-job learning years ago. I was living in Toulouse, France, in the late '80s and was starting to spread my wings in the business world, more by chance than personal drive, to be honest. Our corporate office gave us the mandate to grow, and I volunteered to help.
As part of a Fortune 100 company, we had access to many tools and training. I particularly remember a training we received based on Franklin Covey's "7 Habits of Highly Effective People®." One of the most powerful teachings was Habit 4: "Think Win-Win®." That lesson struck a chord with me. As I was leading our small, local customer service team, we started to think win-win. We created a sales pitch to transform our relationships with customers operating our avionics equipment. Think of an extended worry-free warranty package vs. the uncertainty of difficult-to-predict repair costs and the headaches associated with budgeting for them.

Fast forward a few years later, when I worked in Phoenix, AZ, at the corporate headquarters, leading the pricing and contract support teams worldwide. I started working on my MBA and learned much more about management and the concept associated with a simple phrase: "Give with the intent to get." There has been a lot written on this topic, and its twin brother called "Servant Leadership."
Fast forward a few more years, in Pittsburgh, PA. I was now at a mid-cap company leading a global industry-focused team. The combination of practicing "Give with the intent to get" and "Win-win" started to pay huge dividends as we quadrupled our sales in less than five years. Reflecting on that period, I do not think we "sold" anything. We "gave" content through meetings, seminars, and lots of travel with the intent of turning prospects into customers. Of course, we "asked" for their business, but more than 90% of the time, we just got the nod and did the paperwork.
Today, this process is called "inbound" marketing. Back then, all that mattered to our teams were creating genuine relationships the only way that worked: Personalized attention, Empathy, Listening, and Caring. We had no social media platforms, no digital advertising, nothing but phones, faxes, "snail" (postal) mail, overnight air express, and face-to-face meetings. Starting at the top, we were a formidable team that cared deeply about each other, our families, our peers, our friends, partners, and allies. This approach was and still is, the recipe for developing profitable relationships: Give with the intent to get.
Have we forgotten something over the past 3-5 years?
I think so. Here is why: Even though I now have my own growing business, I still make time to share with my sales and marketing colleagues a passion for practicing "Give with the intent to get."
In fact, I like to run a few sales training and CRM onboarding sessions every quarter. Why? Because I love doing it, and I am learning so much every time from the human interaction. That keeps me challenged and helps me bring innovation to my own business. Think Win-Win.
Do you really know how to build valuable relationships? Here's a benchmark.
1. Nine Keys to Building Relationships
2. Building Relationships Is More Than A Click On A Social Platform
3. "Give, And You Shall Receive" Is Not Optional
4. Contact the Experts at GrowthHive
Nine Keys to Building Relationships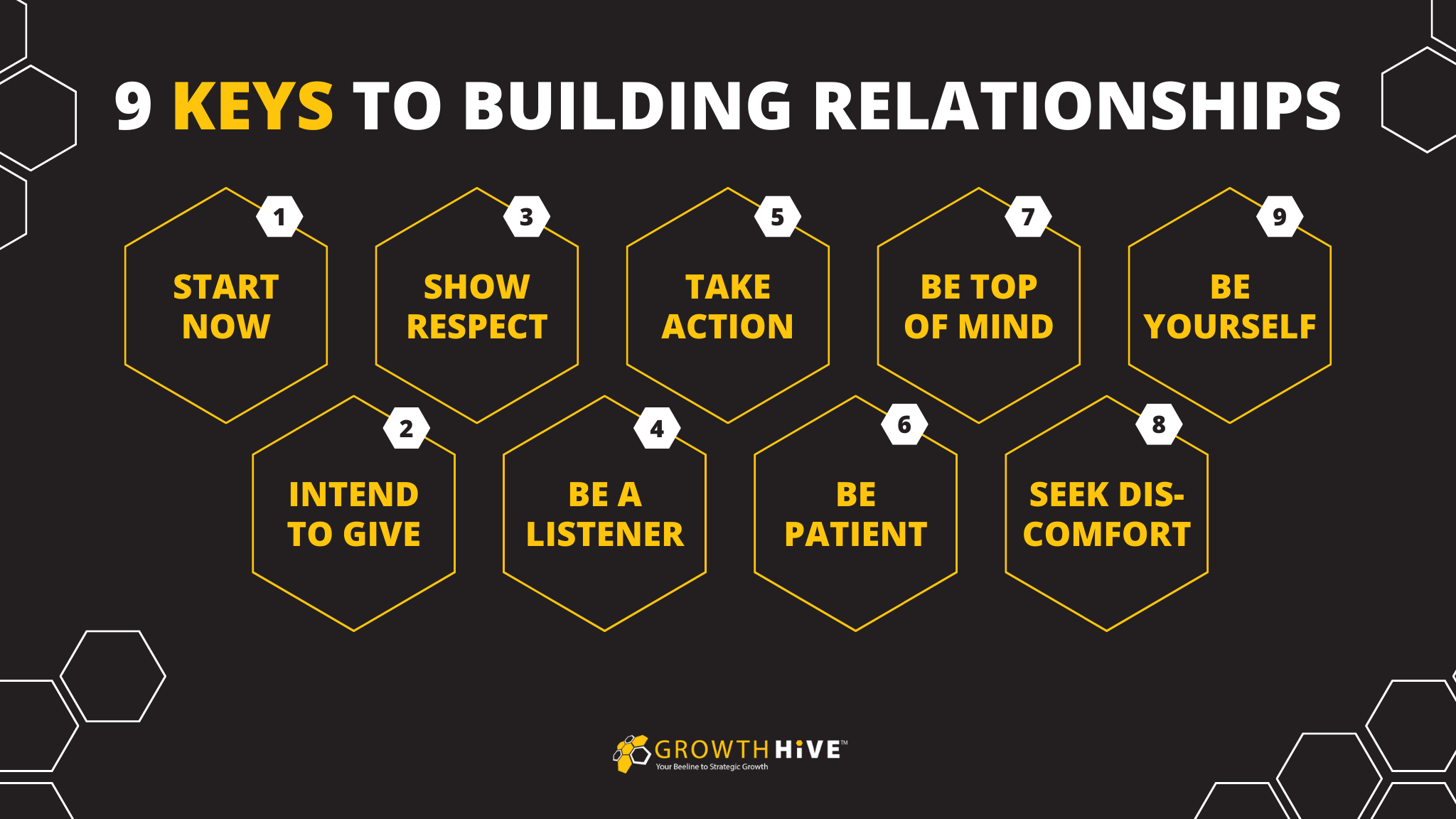 "Intend to Give" is the second step. "Starting Now" is obvious. Intend to Give is less so, but first, let us explore the complexity of building genuine relationships.
Building Relationships Is More Than A Click On A Social Platform.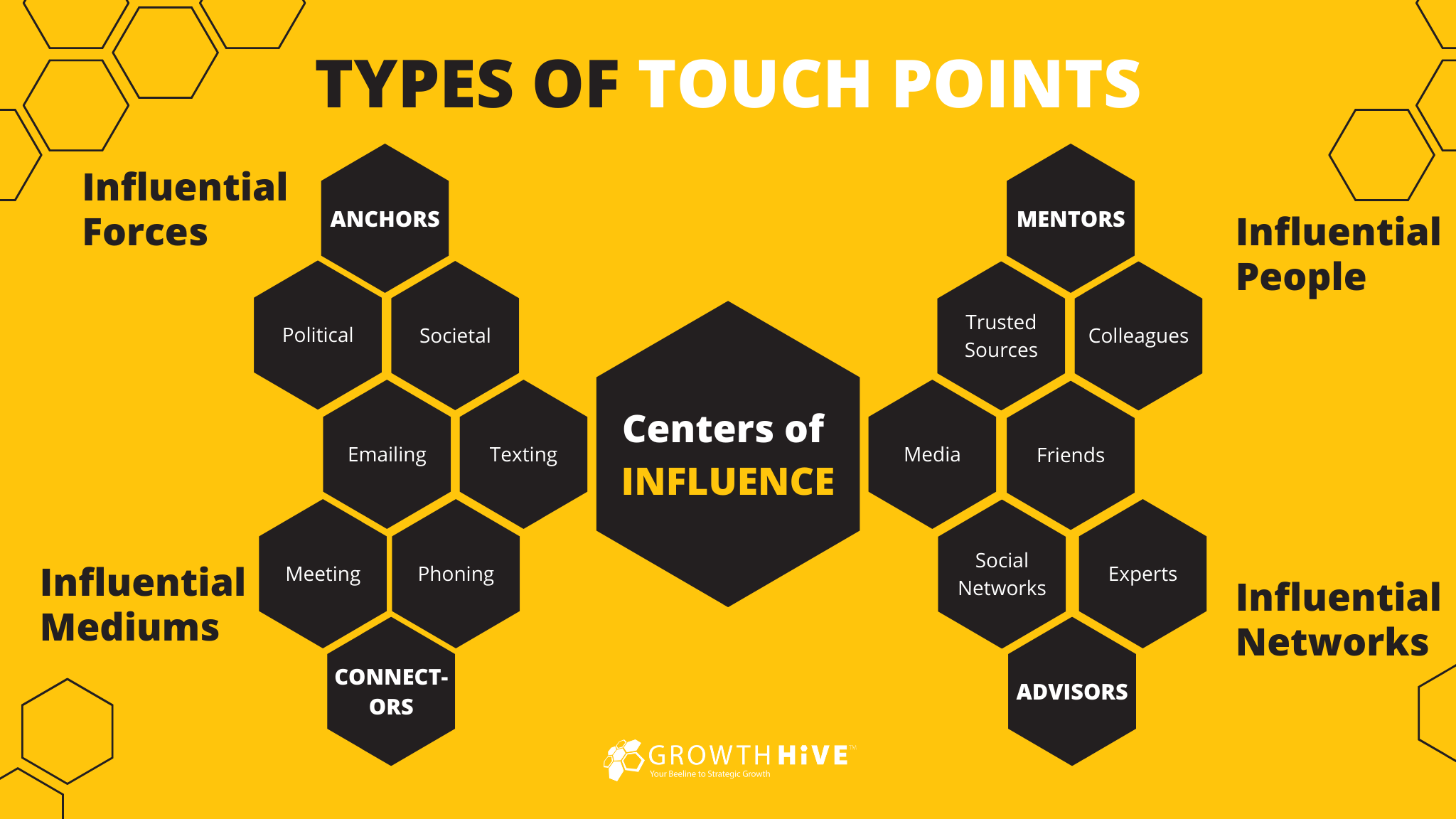 Within this framework, we need to find our "anchors." Who are your "influencers?" In our world of industrial B2B marketing, they are real people working in trade organizations, local chambers of commerce, and professional societies. You need to find them and give them something to get something in return.
"Give A

nd You Shall Receive" Is Not Optional.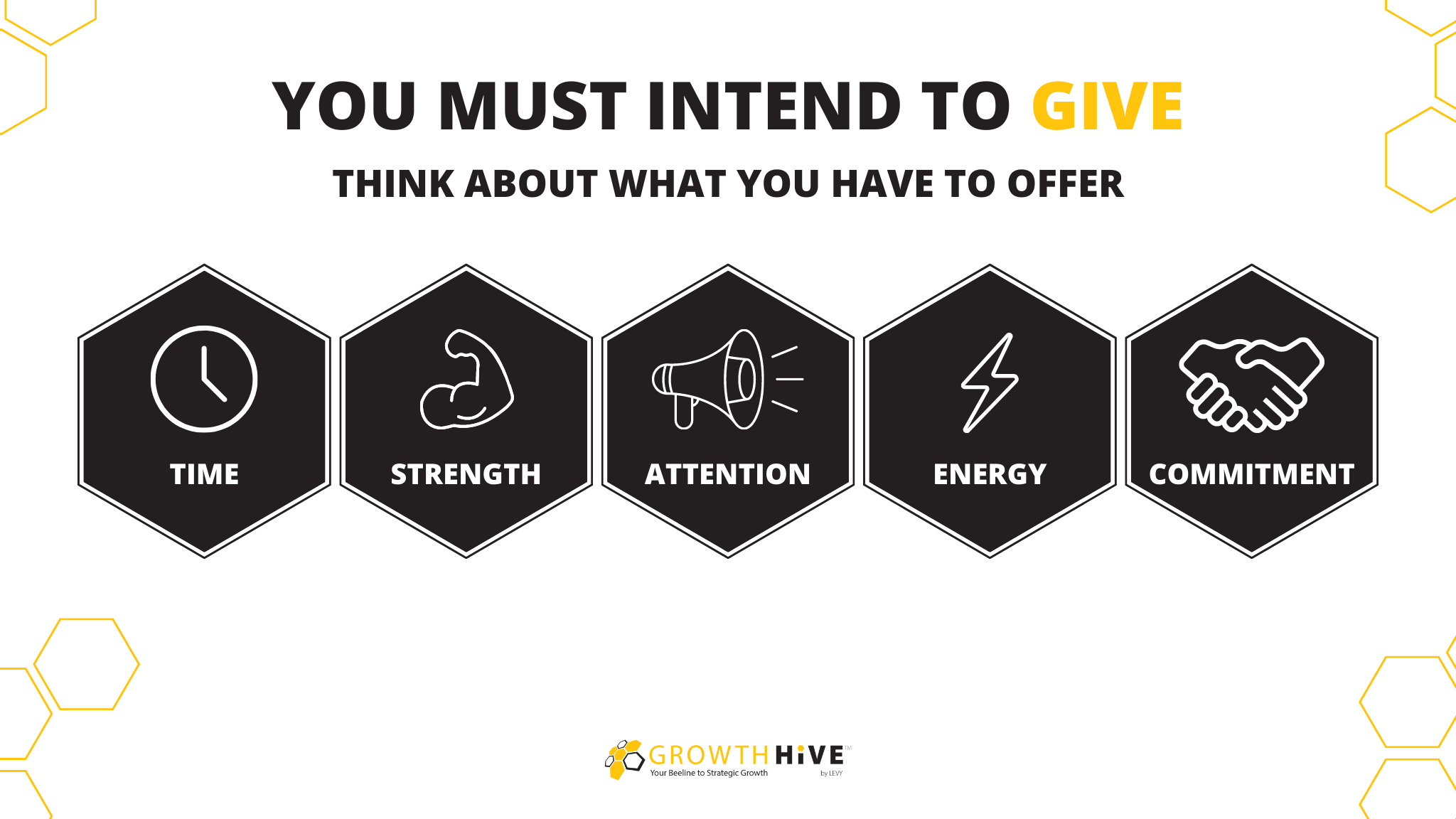 Within that framework, the most important question is: What can you offer? Sometimes it is just time. Over the years, I have managed and helped an alphabet soup of trade associations' work groups pro bono, including SAE, SME, NTSB, AMA, AMT, NTMA,... Giving your time and expertise is not super expensive, and it comes with huge rewards. Get engaged, get visible, and create meaningful relationships. Intend to give, and you will get.
Contact the Experts at GrowthHive
I am often asked if we should "gate" marketing content behind "walls" such as Contact Us forms, and ask our prospects to "give" something to "get" something valuable to them. For example, tell us who you are, click here, and get our white paper or access our online calculator utility. Would you? Nope. That is called "friction," and it is the antithesis of what we should do to "Give with the intent to get." I know a lot of people disagree with me, but I have reams (or screens) of data on my side
I hope you will join us on our quest to make marketing count the only way that matters: "Give with the intent to get" and develop "Win-Win" relationships that last more than a few seconds on social media.
If you would like to know more or to get on the list for our next sales or CRM training, let us know.
No meeting selected
Select an existing meeting from the sidebar, or create a new one by navigating to the Meetings tool
Related Posts
To eliminate the disconnect between marketing (creating awareness) and sales (generating leads & turning prospects...
Are you hearing or thinking about the following at work?
We want to launch a new product, but aren't sure...
Francois Gau
Sep 3, 2019 3:22:26 PM