Bridging B2B Market & Sales Requires New Ways
Francois Gau
To eliminate the disconnect between marketing (creating awareness) and sales (generating leads & turning prospects into customers), it's necessary to make Marketing Automation (MA) the focus of your promotional strategies. Learn more by downloading our easy-to-read white paper and brochure, which contain diagrams and other illustrations that should help you see how you can get more bang for your marketing bucks.
MA software, connected to your website, is the "glue" that bonds together multiple campaigns -- concentrated efforts that align all of your marketing activities around a single offer, such as download a white paper or brochure, or receiving a discount by purchasing a product, solution or service by a specific date. As the diagram shows, everything revolves within and around your website. In fact, you may want to make some of your web pages, such as blogs and news, part of your MA platform for better usability and tracking, so you can see who's interested in what you're offering. By using this model, it's possible to generate $9 or more in top-line growth for every dollar invested – an ROI rarely achieved using traditional marketing tools.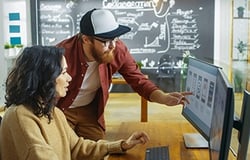 No meeting selected
Select an existing meeting from the sidebar, or create a new one by navigating to the Meetings tool
Related Posts
Frustrated by chasing too many unqualified prospects?
Campaigns not yielding enough leads? Spending a lot on...
Are you hearing or thinking about the following at work?
We want to launch a new product, but aren't sure...
Francois Gau
Sep 3, 2019 3:22:26 PM