Market Mapping & In-Depth Market Research Bridge Gap Between B2B Marketing & Sales
Francois Gau
Are you hearing or thinking about the following at work?
We want to launch a new product, but aren't sure which markets would be most receptive to it at this time.

We need to grow more quickly, but market share is limited in our current vertical. I don't know where to look for new market opportunities.

We know there's space to growth within our industry, but we'll need to expand our territory and don't know the right location to target.

We've talked to almost all of the key stakeholders in our audience and need to branch out and talk to new groups of people.
Sound familiar? If so, you're not alone...
The most efficient way to make your marketing dollars count is to systematize the process for growing or maintaining market share, and for entering new markets.
By using an innovative process, which includes Market Mapping and Market Research, plus several other steps we'll discuss in future posts, a company in any sector can seamlessly create awareness (Marketing), generate leads and convert prospects into customers (Sales), as well as course-correct in real time, to generate $9 or more in top-line growth for every dollar invested in B2B marketing programs.
B2C paved the way for B2B. Some B2C marketing tools and processes are now becoming available for B2B at competitive price points, and with features that make them suitable to use in our multi-persona, multi-channel complex selling environments.
Most marketers are "creative types" who are not necessarily quantitatively oriented. They, and I consider myself one of them, place more emphasis on the visual & written qualities of the work products we create than on the effects those websites, ads, brochures and direct-mail pieces have on helping our clients promote their products or services.
Also, unfortunately, many of us haven't really been given the opportunity to be "in the shoes" of our colleagues in sales and often miss some very important clues about the factors which inform customers' buying decisions.
Because I have been fortunate enough to work on both sides of the fence, I have observed that most sales people are insufficiently inquisitive about asking what persuaded a prospect to become a customer. We simply launch right into the features, benefits and technical stuff, and eventually have conversations about pricing.
Wherever I go, it's very common for "technical types" or "best buddies" to be unaccustomed to acting as "market researchers" or "marketing detectives."
Marketing Mapping
Every comprehensive plan must start with a rigorous "Market Mapping." We recommend using a simple process, leveraging the data already gathered through strategic planning. For example, our one-day session will review existing plans, and customer and sales data jointly with the client. Through our unique process, we will be able to jointly map 3-5 segments for the sales and marketing plan using this framework:
By comparing multiple end markets, products, channels and geographies, we can create a short list of 3 to 5 "segments" on which we should focus our marketing and sales activities.
A segment is the intersection among an End Market, Geography, Product/Service & Channel. For example: Aerospace, Asia, Product ABC, through distribution.
For some companies, the list is relatively short (e.g., a dozen). For most companies, the grid is relatively complex with 30 to 100+ segments.
The prioritization process could take weeks of work using traditional market research processes. Frankly, most segments would prove a waste of time and energy to consider because a company may not be positioned to pursue those segments for a host of reasons.
Our Market Mapping is different, and highly valuable, because we analyze 10 variables that are normalized, weighted and relatively easy to gather with a day of work. After many years of using the process successfully, I have noticed that precision is not required, and that most of the information is already known by the management team.
Our tool leverages 10 criteria to evaluate each potential Segment against one other regarding Right to Play (RTP – How well-prepared are you to serve this segment?) and Right to Win (RTW – How well-suited are you to control this segment?). A weighted formula force ranks each segment in each bucket.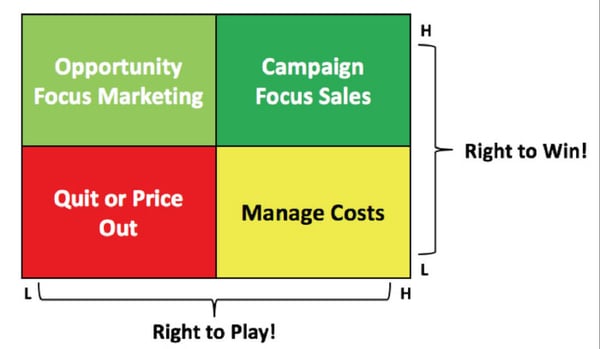 Setting Goals & Conducting In-Depth Market Research
Now that we have 3 to 5 segments identified, it is time to set goals and invest in more traditional research tools to gather the information needed for planning the upcoming marketing and sales activities with a higher degree of precision.
Setting goals is usually the easiest step. Everyone has a growth plan in mind or on paper. The trick is to break that goal into identifiable segments and split it among Marketing (new segments), Sales (growth segments) and Operations (maintenance segments).
For "growth and maintenance" segments, proceed directly to your classic Sales & Operations Planning (S&OP) process. Use the tools and processes you have in place to conceive, execute and monitor the plan.
For "new" segments, there is one more step before we can enter planning: Secondary Research.
First, we need a deeper understanding of the demographics of each segment, one-by-one:
Key Drivers (changing technology, increased competition, legislative/regulatory requirements)
Whom do we know? Whom should we know? (job titles of buyers, specifiers and influencers)
How do they buy? (direct, indirect, regulated)
Next, we need to identify whom we are going to target in each segment, where and how.
We usually start with known clients or prospects in a given market space and use SIC/NAICS matching to look at who else is in that space. When relevant, you may use that step to acquire contacts. You may already have a lot of contacts, but more is better. I recommend getting to about 2,000 contacts per segment to start becoming relevant. Experts will say you need to reach more than 10,000 contacts to see momentum. In some markets, there aren't that many contacts, so use what you can and start from there.
We then develop personas for the typical technical specifier, buyer and VIP (the one with the money). We need to understand (to a degree) the questions to which specifiers, buyers and VIPs may need answers, what their hot buttons are, where they typically go to get information, and other common demographic elements. I always start with questions for a reason: It informs our messaging, Unique Selling Proposition (USP) and sales pitches.
Lastly, we need to start identifying where the "watering holes" (i.e., information gathering places) are: Trade shows, trade associations, websites, trade publications and many other events or sources one would not directly identify with the industry or trade. In one of the product launches with which I was involved, we went into outdoors and sports outlets (off-road racing) to reach the hearts of a certain persona. It just worked! Let us know what marketing challenges have left you puzzled or frustrated, and we'll help you meet them.
No meeting selected
Select an existing meeting from the sidebar, or create a new one by navigating to the Meetings tool
Related Posts
Frustrated by chasing too many unqualified prospects?
Campaigns not yielding enough leads? Spending a lot on...
To eliminate the disconnect between marketing (creating awareness) and sales (generating leads & turning prospects...
Francois Gau
Jan 8, 2019 11:33:46 AM