Freshen Up Your Marketing Strategies with ABM!
Francois Gau

The customer's digital journey begins early. In fact, much earlier than ever before due to 3 major forces converging:
Demographics, with Millennials and Gen Zers relying more heavily on social media platforms for ideas to generate growth and improve operating efficiencies (e.g., LinkedIn, Twitter, Instagram, YouTube)
Technology, with social and artificial intelligence (AI), making it easier for prospective customers to find you or your competitors
Pandemic (COVID-19) fallout, making face-to-face visits more difficult to occur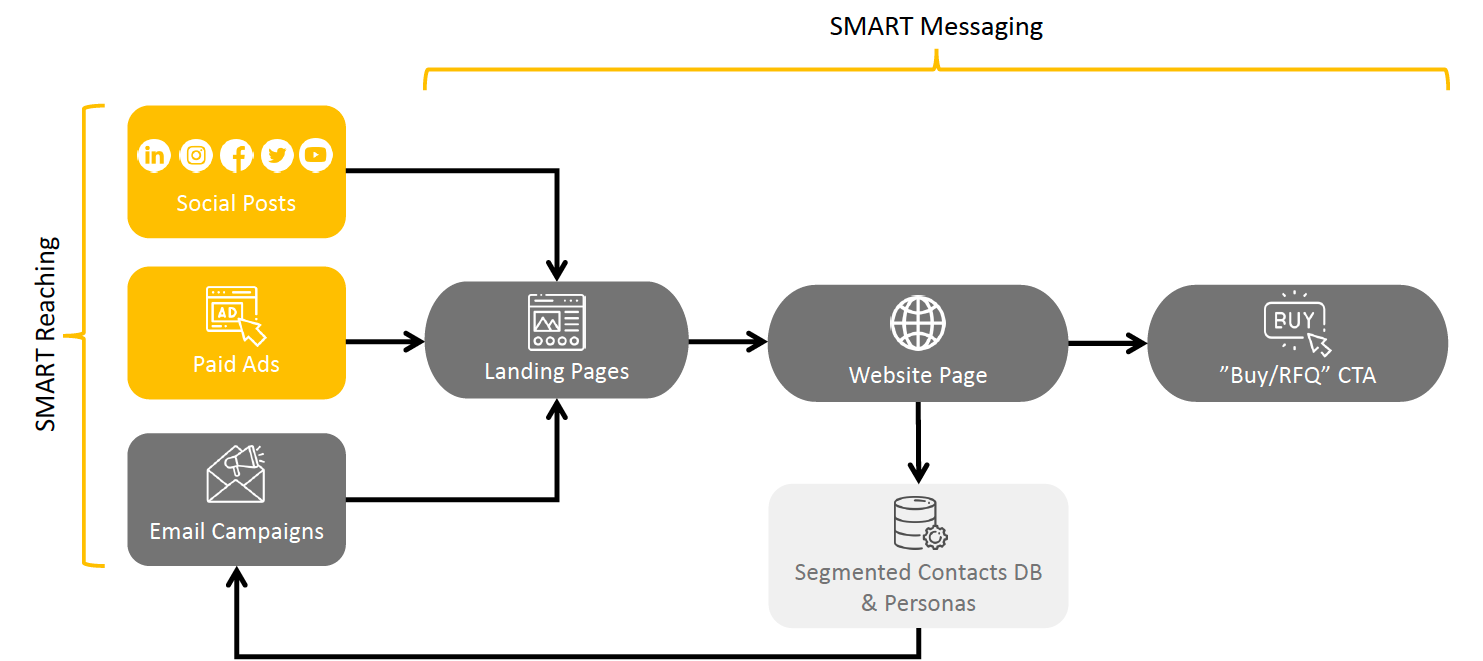 B2B is SMART
The key is to be able to simultaneously articulate a SMART (job title-focused, not to be confused with SMART goals (specific, measurable, attainable, relevant and time-bound)) value proposition that resonates with all 3 primary B2B stakeholders, typically the Manager, the Specifier and the Buyer.
If the objective is to communicate with all 3 target audiences at the same time to close a deal, we need to think outside the box by using SMART Reaching and SMART Messaging as shown above.
Inbound and ABM: Alphabet Soup Clarified
Inbound is the foundation of modern marketing. It's grounded in the idea that you must engage, educate and eventually convert prospects who want to do business with you because you are the thought leader. In contrast, traditional outbound marketing consists of simply telling prospects what you're selling and asking them to buy it.
What is ABM?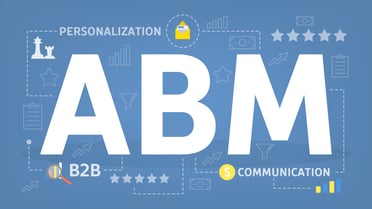 According to Wikipedia, Account-based Marketing (ABM) is a strategic approach to business marketing based on account awareness in which an organization considers and communicates with individual prospects or customers as "markets of one."
OK, that's deep... Let's simplify for B2B marketing: If you're doing great by selling to ACME Inc.'s Plant 503 in Arizona, for example, you should also be successful in selling to the company's Plant 101 in Maine, but chances are you're not...
The idea behind ABM is to create the environment for a group of contacts within the same company, or cluster, to be treated as one, and grow from there by sharing ideas and best practices within that group. In the case described above, we treat ACME as the market instead of focusing only on one facility within the company.
The personalized campaigns you use to engage each account with content they find beneficial is based on your knowledge of the group's or individual's needs and tendencies. (e.g., appreciation for technical information, preference for brief explanations.)
ABM takes a holistic view of marketing that goes beyond generating leads for short-term benefit. Instead, ABM encourages upselling and cross-selling by providing groups of contacts or individuals with useful information that can help you get maximum value from your accounts, particularly the larger ones.
Advantages of This Approach
Marketing automation software such as HubSpot and Marketo makes it easier than ever for marketers to implement ABM programs and benefit from them by:
Creating personalized messaging for target audiences. Numerous studies have shown that a vast majority of customers (75%-80%) responds more favorably to personalized offers than to ones that aren't tailored to them specifically.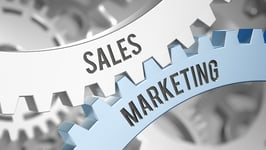 Although personalizing every message is time-consuming and goes against the grain of marketing automation, which seeks to streamline interactions with prospects and customers, you can personalize content based on the characteristics of any given account.
Aligning marketing and sales teams by identifying key accounts, developing customized campaigns and working together to move accounts through the marketing and sales funnels
Accelerating sales cycles by nurturing multiple decision-makers and influencers simultaneously so everyone has access to the same information at the same time
Improving the ability to measure ROI because of ABM's precision and ability to be quantified (The vast majority of marketers who measure ROI have learned that ABM delivers higher returns than all other marketing strategies.)
Wasting fewer resources by focusing exclusively on a small number of accounts likely to generate sales rather than on a larger number of accounts that are unlikely to become customers
Examples of ABM include:
Crafting job title-specific email campaign messages tailored to individuals in particular companies or industries to "activate their hot buttons" and start a conversation that leads to a sale, and hopefully repeat business
Using pay-per-click (PPC) ads on search engines, banner ads and ads on social media platforms such as LinkedIn to target personas in specific industries
Reaching your best prospects through direct mail campaigns that include product samples, promotional items and other objects that can help to generate interest in what you're selling by showing those would-be customers how much you value the potential of doing business with them (It can be an effective way to differentiate yourself from competitors at a time when people are challenged by the amount of e-mail they receive)
Developing targeted webinars for prospects at a particular company, or who have the same job title at a variety of companies you've identified as potential customers or as established customers you can upsell
Without a doubt, ABM is hard work compared to traditional outbound marketing, and here's how we do it: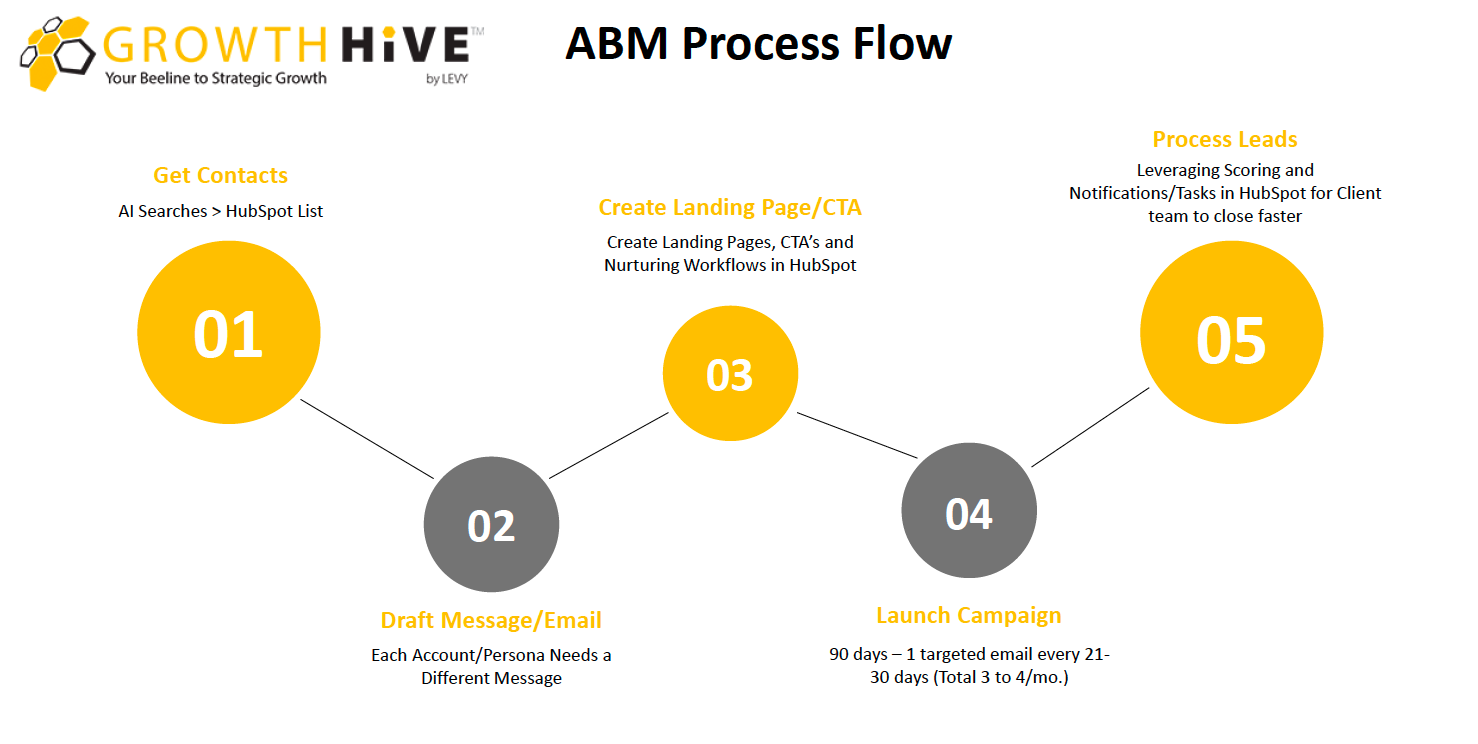 Generating Rapid Growth
When I led marketing teams in large public companies, my teams grew certain accounts, and as a result they were highly successful in penetrating some markets. For example, we grew Aerospace from $56M to $155M -- 3X -- within 4 years! How did we do that? By applying the process diagrammed above.
We had an excellent value proposition and we rolled up our sleeves, combed the aerospace directories of targeted companies (e.g., names, job titles (personas), phone numbers, e-mail addresses) built our network, messaged as clearly as we could from company to company and voila, excellent results followed.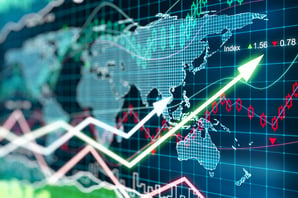 Hard Work Ahead
In my corporate days, we had a rudimentary CRM system called a spreadsheet, and we used PowerPoint, emails, phone calls and in-person visits to generate sales. Web conferences? Nope. Social Media? Nope. LinkedIn? Was just emerging.
Now, we have marketing automation software like HubSpot that can help you create customer-specific landing pages, SMART (job title-focused) messages, Persona (typical buyer profile)-based lists and more to target your communication most effectively.
If I'd had a choice 10-15 years ago, I would have outsourced the research, building and connecting parts of the process (Steps 01 through 04 in the above illustration) and kept only the fun part in-house -- meeting with clients, devising projects, building teams and delivering value.
Well, that's exactly what we do now at Levy. We help your team shape your story from strategy to success by creating and delivering content to:
Connect with your customers at least once a month via emails and social media platforms
Expand your reach to new prospects within your network
Amplify your reach though targeting based on prospects' interactions with your emails and social posts
Convert your leads faster with marketing automation
Grow top line revenue with 9X ROMI (return on marketing investment)
To discuss how Levy can help you thrive in an increasingly dynamic business environment, give me a call at 724.875.5358 or set up a short meeting by using the button below.
No meeting selected
Select an existing meeting from the sidebar, or create a new one by navigating to the Meetings tool
Related Posts
Everyone is interested in something. As a licensed pilot, I have a passion for flying and also like fast cars....
Last week, in my previous blog, I talked about the WHY of Making Your Marketing Count. This week, we'll dive into...
Francois Gau
Mar 16, 2020 3:15:47 PM