How Inbound Marketing Builds Your Company's Brand
Francois Gau
The process of adaptation within the marketplace is constant. Inbound marketing is the adaptive response to changes in the purchasing process. It can also help build your brand by giving you more online visibility. Once you start implementing Inbound Marketing as part of your larger marketing strategy, you'll realize tremendous gains in brand equity.
To fully understand how inbound marketing builds brand awareness, we first need to define inbound marketing and brand marketing. Even though they are two distinct disciplines, both pull or draw prospects to your brand through search engine optimization (SEO) and non-intrusive inbound marketing tactics. It doesn't push products and services to prospective clients, like outbound marketing. It engages potential customers with interesting and relevant content.
Inbound Marketing Goes with the Flow
Inbound marketing is designed to get prospects interested in a particular brand or product. There is no struggle for their attention. It allows them to organically develop an interest in a brand or product on their own time. It's more about enticing rather than pursuing via online awareness, thereby gaining social confidence and integrity.
Nurturing Prospects Towards Conversion
By developing your buyers' personas (identities) and creating websites, webinars, e-books, blogs, opt-in emails, videos and social media, your brand is built because of the quality of the information you're providing, which results in higher quality leads and a better user experience.
Marketing with high-quality content allows your company to teach, instruct, and solve problems and needs. The good news is that this content can be repurposed in many ways – so that you can get the most marketing mileage.
SEO
Most prospects do Internet searches prior to purchasing a product or service. This makes SEO a very important component of your brand awareness. If your website is appearing on the first page of a search, it means that you're providing your prospects with authoritative and reliable content to help them make a buying decision.
Social Media
Companies who take advantage of social media are in a prime position to increase their brand equity and boost their trust and credibility among prospects and customers.
Blogs
Blogs are essential to increasing product and brand awareness, attracting qualified leads, and converting them into customers. Blog posts provide great content to cross-promote on
social media.
---
Inbound Marketing allows prospects to organically develop an interest in a brand.
Consumer Engagement Results in a Strong & Viable Brand
Inbound marketing is based on attracting consumers with useful, innovative content that adds value to the stages of a buyer's journey – attraction, education, close and loyalty. It effortlessly directs prospects through a sales funnel that introduces them to a particular brand, plies them with fresh and usable content, and converts them into solid leads.
Awareness Stage:
Here a buyer is trying to get an answer or meet a need. They're looking for educational not branded content to help direct them to a solution, like blog posts, social content, and e-books. Their value as a lead is low because there's no guarantee that they'll buy from you.
Evaluation Stage:
It's achieved by offering the user innovative content that he can download in exchange for filling out a form with his or her data. When this action is initiated, it allows the prospect access to more exclusive content, such as e-books, webinars, videos and checklists, based on their preference. This is where you're nurturing a lead and establishing trust between the audience and your brand.
Purchase Stage:
A compelling call-to-action may be the final push a buyer needs to become a customer. The right offer and content at this stage can make a dramatic impact on your conversions. Lead scoring allows you to gauge the "temperature" of the potential buyer, analyzes her profile and behavior, and follows up with appropriate content.
Loyalty Stage:
Inbound marketing goes far beyond just getting a sale, it also inextricably ties customers to your brand. Continuing to offer useful and fresh content allows you to engage and delight, creating loyal customers and possible future referrals or recommendations.
As more content is generated along the customer's journey, it positions you as an expert in your industry. Prospects are always willing to provide you with their contact information, as long as you have quality and relevant resources to share with them. Getting the right information from your leads makes your campaign more effective as this helps to reduce the amount of time creating and sending content.
---
According to HubSpot,

88% of B2B marketers

are using custom content marketing. Are you?
Today, customers want instant gratification. They are more interested in getting all the information they want with ease. Any marketer that offers relevant material is more likely to gain customers' trust.
The Best Part Is That It's Measurable
As your inbound marketing campaign progresses, you get the supreme satisfaction of seeing the results of your investment, unlike traditional outbound marketing mediums such as print ads, cold calling, or sales literature.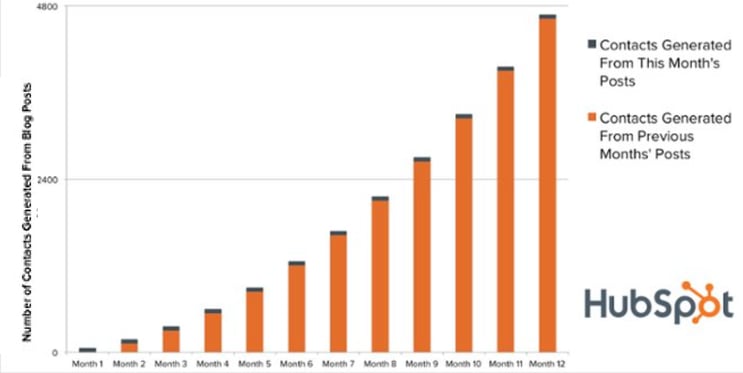 Instead of trying to sell the customer a product he is not interested in, inbound marketing uses digital systems and technologies, like HubSpot, to pull your audiences to your product or service.
Inbound marketing gives you accurate data and evaluates results. By integrating your sales CRM, it instantly measures how often you made sales as a result of site visits. It also helps you to understand what interests people the most and indicates ways to improve your business based on customer preference.
Real-time analytics will give you access to detailed information about customer behavior on your site, keep sight of what's trending, and improve what is lacking. Access to data-driven intelligence allows for course-correction in real time, optimizing future campaigns.
Inbound Generates 3x More Leads Than Outbound
Let's not underestimate the intangible, long-term benefits that outbound marketing brings to brand equity and customer relationships. Outbound marketing relies on traditional mediums to push print ads, sales literature, catalogs, and tradeshows to prospective customers.

A B2B company initiates the conversation and pushes its message out to an audience. There's no real way to track performance or customer behavior. You cannot tell precisely who or how many people you've reached with your outbound efforts. This makes it difficult to realign strategy, change course, or know your ROI.
Both brand marketing and inbound marketing are based on communicating your company's identity to your customers or prospects as a brand they can trust. It's the chance to build a real connection and increase the brand's equity. Branding improves the image of your company, which is a priceless asset.
No meeting selected
Select an existing meeting from the sidebar, or create a new one by navigating to the Meetings tool
Related Posts
Are you hearing or thinking about the following at work?
We want to launch a new product, but aren't sure...
Frustrated by chasing too many unqualified prospects?
Campaigns not yielding enough leads? Spending a lot on...
Francois Gau
Dec 17, 2018 2:39:09 PM